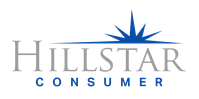 Hillstar Consumer LLC
Hillstar Consumer was formed in 2015 by a group of experienced consumer product executives.
Hillstar's goal is to assist entrepreneurs in taking their products to market and to achieve their full potential.
We seek to partner with entrepreneurs, improve products, enhance packaging, efficiently source manufacturing and obtain placement in Online, Big Box, DYI, and other appropriate channels. We can work with concepts to fully developed products. We will handle all aspects needed for successful product placement, launch and maximum sell through.